Buzz is a new business offering assistance to students, young entrepreneurs, employees, schools and more. Any new business needs a logo, and branding to go around that logo. Here is the process of how we make the Buzz Branding.
Part 1
Creating the Logo
I started off by asking the client what type of logo he thought would fit best with his company. Logo's fall roughly into 5 pillars; abstract, pictogram, lettermark, wordmark and emblem. Because choosing one of these pillars is difficult for non designers, I had made sketches fitting to his business.
Above you can see those 5 sketches worked out as clean logo's.
The company is called Buzz, after the busy working bee. This of course needed to be implemented in the logo. Using images of bee's and honey I created a rough color pallet that was used throughout the branding.
Then, after establishing the pillar the client wanted to look at, we had a look at fonts. Of course I matched the fonts with rough logo designs, giving the client a clear image of the final product.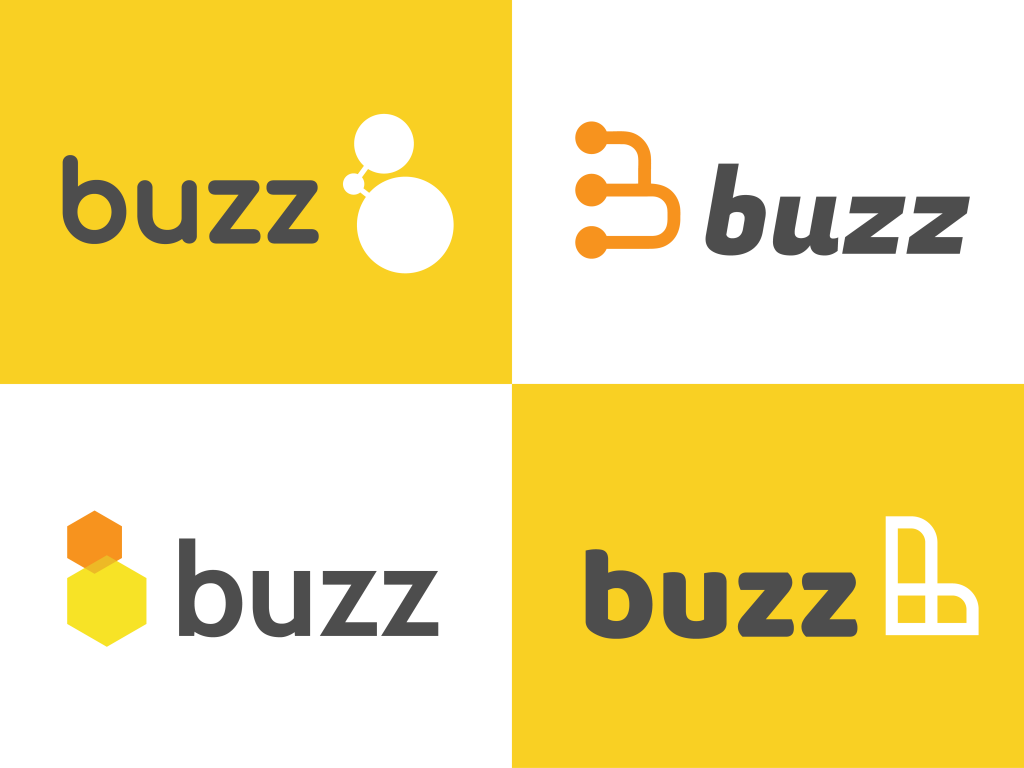 With all the fonts I had made a great amount of icon's to fit the entire brand. Creating a great selection of logo's.
The chosen logo went through a few rounds of tweaks after finally ending up having to choose the thickness.
Lastly the client wondered if we could angle the hexagon 90 degrees. After presenting this option we choose not to go with it, it looked a bit more aggressive. And that is of course not what the client was looking for.
The final logo looks like this, a great and bold bee with wings shaped as the B in buzz. The simplistic design is very recognisable and so is used in many different forms. From stickers to business cards.
Part 2
Expanding the branding
After establishing the logo and color scheme, the brand got set up and used.
In the Business card you can see how the hexagon gets used in different ways. Because of the simplistic and recognisable logo it can be adapted for different uses. Here you can see the Icon being used in the corner of documentation.
Reflection
Working with Buzz worked out great. Because of the quick feedback and clear communication we set up an amazing looking Buzz Branding.